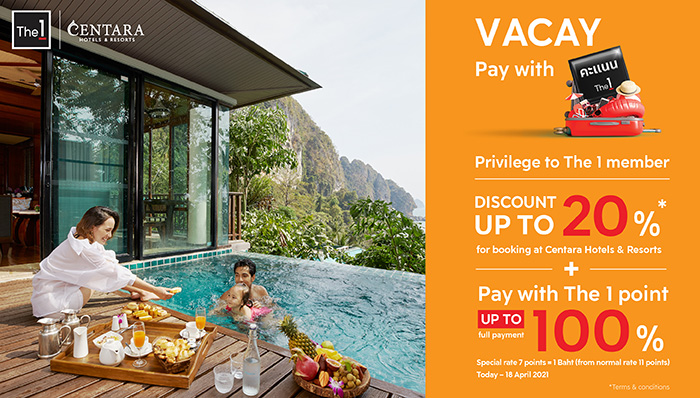 Let Your Trip Begins with The 1 point

Book your Centara stays using The1 points at www.centarahotelsresorts.com
Your points are worth more than their regular value
Only login to CentaraThe1 and Pay with The 1 Point upto 100% full payment
- Special rate 7 points = 1 Baht (from normal rate 11 points) till 18 Apr 2021
Terms & conditions
- Member must log in to CentaraThe1 before making a reservation to receive the benefit.
- Once logged in, if there is no The 1 point bar on "Notice of your redemption" page, please contact The 1 Call Center call 02-660-1000 (9 A.M. to 10 P.M.) from Monday to Sunday.
- OTP required to perform the transaction.
- OTP will be sent to your mobile number which has registered with The 1. If mobile number has been changed, please contact The 1 Call Center to update your information.
- The 1 point will be deducted once key in OTP and click "Next".
- In case of system failure or unsuccessful payment, The 1 point will be automatically returned to The 1 member account within 30 minutes.
- Member can select stay period prior to Centara website. If have any questions, please contact Centara reservation centre all 02-101-1234 (9 A.M. to 6 P.M.) or by email
reservations@chr.co.th
- Redeemed The 1 point cannot be refunded or cancelled once reservation has been completed.
- The company reserves the right to change these terms and conditions at any time without prior notice.